A hot pink triangle caught my attention this morning. I thought it was a party hat. No, it's product women can use to pee standing up. Welcome to feminism in American today. This product, The Stand Up, is described as "your first disposable, biodegradable, clutch-purse-fittable, pocket-slippable peeing accessory." And you can buy a "purse pack" of 6 for $6, a "festival pack" of 18 for $16 or a "superwoman pack" of 36 for $30. Let's hope you don't.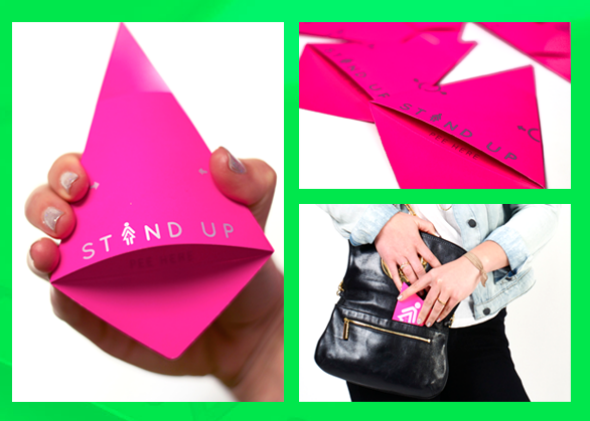 The product website includes a guide to four easy steps for use–unfold, squeeze, go! and throw. It's advertised as giving women the freedom to go anywhere. I can see a need for a product like this for hygiene reasons in some places around the world, but the goal shouldn't be to turn women into men.
An article on Slate headlined Feminism Worked: Now You can Pee Like a Man touts this effort as a victory:

A San Francisco company called Stand Up Life has devised the best tool yet for helping women achieve equality with men. The ground zero for the remaking of gender relations will be the bathroom…
No, feminism didn't work if this is what it has come to in America. Again, too many feminists seem to measure the success of women by how close we can become to men. The article pointed to a few other competitors in this market, including one that uses the tagline "Pee like a man…now you can."
This is our Feminism Gone Wrong Watch post for the month.